A Closer Look at 1940's Fashion
Posted by Hayley Barraclough on
1940s women's fashion was about creating an hourglass silhouette with masculine details: padded shoulders, nipped in high waist tops, and A-line skirts that came down to the knee. This was the everyday shape for clothing, from suits to dresses.
Even trousers had a similar high waisted, wide leg shape. 40s fashion accessories such as hats, gloves, handbags, and jewellery completed an outfit while natural makeup with bright red lips painting a happy face during difficult times. The 1940's look was very practical but very put together.
Knee length A-line dresses with puffed shoulders in patriotic colours

Plaid A-line skirts with white button-down blouses

Victory suits: masculine tailored skirt and jackets

Wide leg, high waisted trousers

Shoes – peep-toe heels, loafers, oxfords, wedge sandals

The two-piece bikini debuted

Hats, turbans, head scarves, snood and flower clips topped women's heads

Lingerie – seamed stockings, socks, simple bra, girdle, slip and panties
With the start of the war and a strict rationing on fabric, dresses in the 1940s became shorter. Whereas the 1930s featured dresses down to mid-calf, the 1940s brought them up to knee length.
The war also affected the top of the dress. Women's clothes took on a masculine militant look with the invention of shoulder pads. Every dress, blouse or jacket was fitted with shoulder pads that extended just past the edge of the shoulder. This made for a boxy or square neckline and shoulder angle.
Some common 1940's dress styles included:
Shirtwaist dress- Buttoned on the front down to the waistline. Pintucks and gathers on the shoulders and waist provided bust and waist shaping.

Button Down Dress- Similar to the shirtwaist dress but more comfortable for a casual, easy going style. One of the more popular dress shapes

The Wrap Dress- A common house dress or working woman's uniform. Often had high neckline for a modest look. Later on in the decade draping on this style was introduced for a more formal occasion look.

Shirred Dress- A very flattering style of dress, often used for evening and occasion wear.
There were many more style along side these, including the swing dance dress, tea style dresses etc.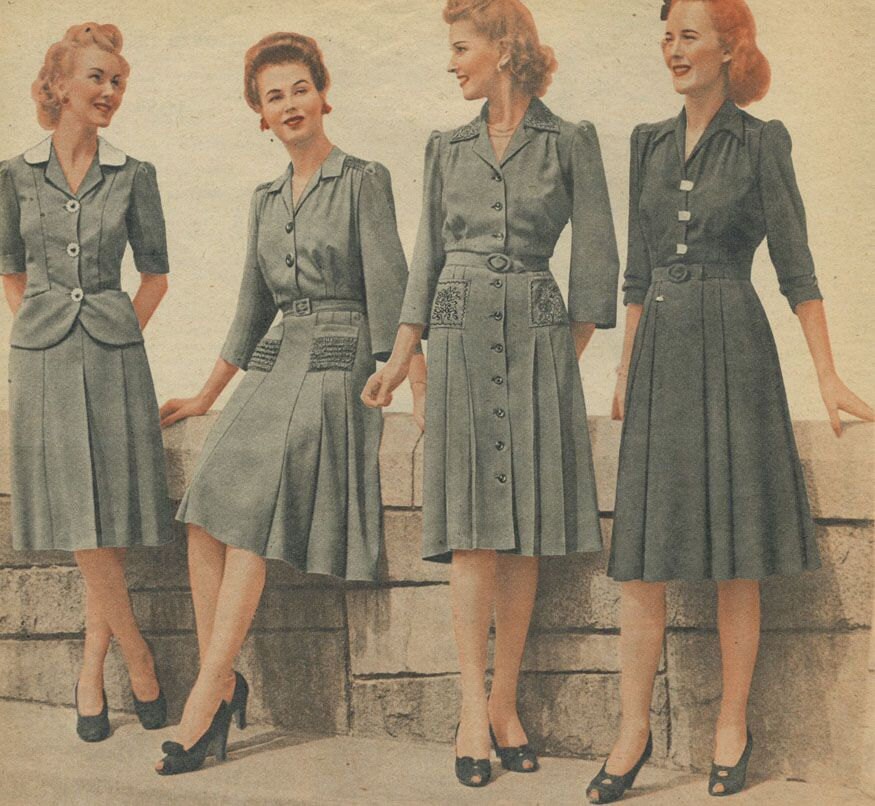 The shortage of fabric also caused the popularity of the two-piece suit known as a Victory or Utility suit. Women could mix and match skirts, blouses, and jackets for a new outfit every day. Even after the war, the suit remained popular due to its comfort and practicality. Skirts were A line and not pencil. Due to the lack of fabric there were no pleats or gathers as this wasted fabric.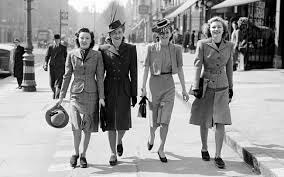 Blouses were often worn as part of a suit. They could also be worn plain or with a light cardigan over them. Blouses were either a solid colour or a striped pattern. They could be short sleeved like dresses, or long sleeved with puffy gathers and tight wide cuffs at the wrist. They usually buttoned down all the way and had a small V-neck or round Peter Pan collar neck opening.
Working in factories needed safe clothing that wouldn't snag in machinery. At first women just wore men's trousers as trousers were not widely available for women. Later manufactures made trousers for women, although they still looked very masculine. They were very high waisted, button or zippered down the side and had full legs with wide cuffs at the bottom. They were made of cotton, denim or wool blends. Women wore them at work mostly but soon became a part of their casual wardrobe at home and for fun.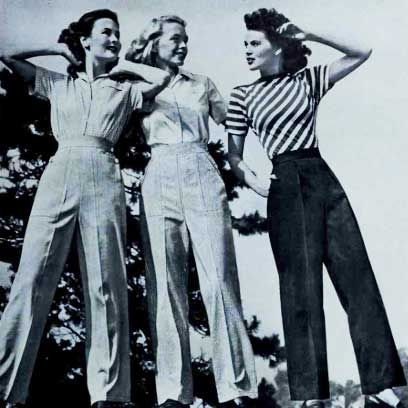 Early 1940s coats were very square in shape and usually quite plain. They had a few large buttons down the front, plain or cuffed narrow sleeves, with a variety of necklines. They were often long, down to the knee, to keep warm and covered up. Fur trims were still very popular like in the '30s. Fox was the best and other furs were dyed to look like fox. For formal wear, fur stoles and capes were a must.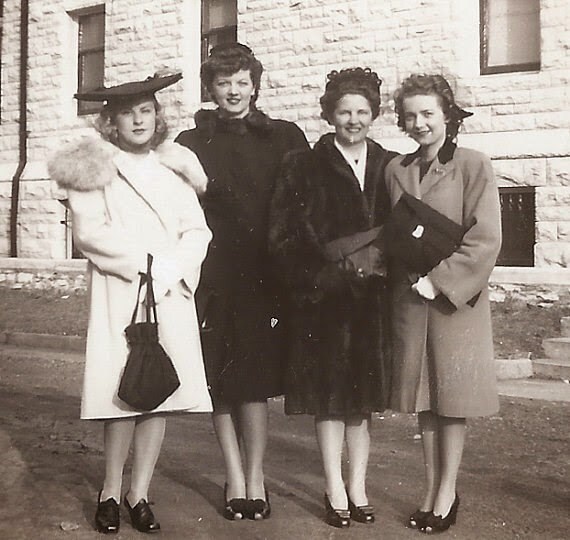 With 1940's women taking on a working role 1940's shoes were very practical. Leather was needed for the war, so shoes came in velvet, mesh, reptile skins, and even all wood (clogs). Heels were short and thick in the early '40s and slightly thinner in the late 1940s.
The wedge also became very popular during the 1940's. The wedge sole was all one piece, gave moderate height and was considered safer than tall heeled shoes. They came in solid slip-ons or fun summer sandal types.
The peep toe was one common style. It was a small slit in the front of the toe. Peep toes could be seen on shoes, sandals and wedges.
The more casual style of shoes were Oxfords and saddle shoes. These single or two-tone shoes resembled men's shoes with a rounded toe. Slip on loafers were an alternative to Oxfords. They were casual, comfortable and all the rage with teenagers and working women.
Shopping for 1940's Vintage
There is still plenty of 1940's clothing in circulation. Be prepared to pay slightly more for 1940's vintage just due to the age and rarity of the clothing.
There are some amazing sellers and experts out there including:
I would also recommend visiting one of the many great vintage festivals happening around the country. They are really great fun with music, food and some great vintage sellers.
---
Share this post
---
---
---
0 comments