A Closer Look at 1950's Fashion
Posted by Hayley Barraclough on
The 1950s were a time when fashion exploded into new directions, new colours, and new silhouettes. It is an iconic decade that has spurned a vintage retro fashion revival including Pin Up and Rockabilly clothing.
· Tea length swing dresses with petticoats for fullness
· Slim sheath dresses and tailored suits
· Pencil or circle skirts, poodle skirts for teens
· Capri pants, high waisted jeans
· Peter pan collar blouses
· Twin set cardigan sweaters
· Kitten heels, saddle shoes, stiletto heels
· Small hats, headscarves, hair flowers
· Jewellery: pearls, animal brooches, sweater clips
· Matching Accessories: Gloves, hats, belt, handbag
· Lingerie: Buttlet bra, girdle, backseam stockings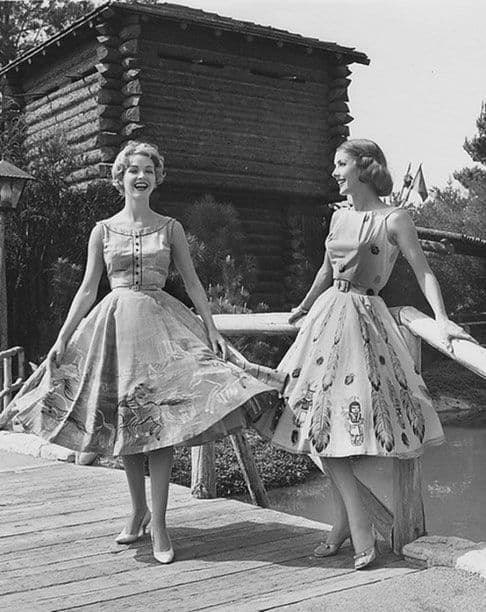 In 1947,
Christian Dior
, turned 1940s fashion upside down with his "New Look." The New Look was big and bold and utterly feminine. Dress skirts were full, and busts were padded to accentuate a small waist. Most women were encouraged to fulfil their role as wife, mother, and homemaker and be beautiful while doing so.
There are two classic dress shapes of the 1950s. The most popular style today is the full skirt, tea length dress often called a
50s swing dress.
The other very classy look was the form-fitting sheath dress often called a pencil or
wiggle dress
today. Both styles had modest, snug fitting tops with narrow high waistlines, and shin-length or tea-length skirts. Both styles were worn by women equally although the sheath dress was too impractical to wear as a housedress.
The housewife dress was a full-skirted swing dress in simple cotton solids, small prints, checks, plaid, and thin stripes.
The shirtwaist dress was the most popular design that buttoned up the full length of the front or just the bodice. They usually have short to 3/4 length sleeves, large pockets, a collar, and thin matching fabric belt. A light petticoat was worn underneath to provide fullness and an apron on top to keep her dress clean. Her shoes were usually flat.
Leaving the house, a woman could continue to wear her housedress but add fancier accessories such as a pearl necklace, earrings, gloves, hat, heels and a handbag. This was acceptable for visiting friends or running light errands. For shopping in the city, meeting up with her husband, going to appointments or any other public outing her dress had to be nicer with coordinated accessories.
"Going out dresses" or women's professional clothes could either be swing dresses or pencil dresses. Fabrics were heavier cotton, wool, tweed, rayon, suiting, corduroy, knits, and synthetics that mimicked natural materials. They were more trimmed than house dresses with contrasting collars, buttons and belts, smaller pockets, dramatic collars, large bows, full pleats, and small pin tucks on a bed of solid, textured, florals, dot and novelty print fabrics. This was the dress that made women feel their best in.
Hosting a dinner party or going out on the town, a woman changed dresses again into a swing or sheath dress made of richer materials such as silk, taffeta, lace, damask, and velvet. Black was the safest choice. Most women at a party were wearing a black dress. It was chic and sophisticated and easy to accessorise with pretty jewellery.
Party dresses
were minimally trimmed. They usually had no collars, buttons, or belts. Necklines were high and round or V for some va va va voom! Some had beads or sequins around the neckline or embroidery on the bodice but otherwise, the richness of the fabric and clean simple lines made a cocktail dress classy enough for most parties. Accessories would include plain high heels, long or short gloves, matching envelope purse, pearls or sparkling jewellery, and sometimes a small coordinated hat.
For hosting a semi-formal party at her own house there was one unusual style of dress called a
hostess gown.
Originally worn by Lucile ball in I Love Lucy eventually every woman wanted one after that! A hostess gown was a cross between a dress, skirt and capri pants. Capri pants were worn with a split skirt dress over it, exposing the trousers below. Overskirts could be long or short, fancy or simple. Men didn't like them ("where are her legs?") but women enjoyed the casualness for a brief time. I want one!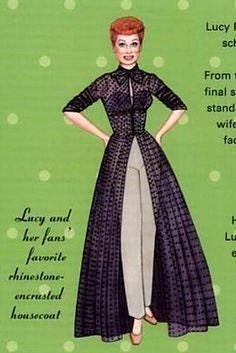 Chop off the top half of a dress and you are left with a classic 1950s skirt. Full skirts made of one large round piece of fabric were called circle skirts. They were worn over several layers of fluffy petticoats to add to the volume. A blouse was worn tucked into the skirt band with a wide cinch belt offering a contrast between the blouse and skirt and helped keep the blouse tucked in neatly.
Tight pencil skirts
were popular as well. They hung straight from the high waist to the mid-calf with a split or kick pleat at the back to make walking easier. Fabrics had no stretch, so skirts were stiff and required women to walk with a wiggle hence the modern name: wiggle skirt. Most pencil skirts were solid colours or plaid prints. They usually came with a matching short suit jacket but could also be worn with a long sleeve blouse or cardigan.
Skirts were paired with white, pastel or striped
button-down blouses.
They fit snug and were always worn tucked in. Blouses usually had collars in classic point, boatneck, and round peter pan shapes. Popular colours were pink, teal, red, baby blue and black. Knit tops were an alternative to tailored blouses. They look like short sleeve jumpers with a pullover or partial button up front. Some had classic point, crew or roll collars. They were usually worn over a skirt or with trousers but were short, just topping the hips.
Short jackets were a newer style in the 1950s. There were tailored jackets worn as a set with a skirt but for winter, casual jackets such as the parka, leather bomber or rain jacket were a stylish, warm and less bulky option to the overcoat.
Many jackets came down to mid hip level, had fur collars, big pockets and a tie or buckle belt. The shortest jacket, the bomber or motorcycle jacket, was adapted from menswear but updated for women with pastel colours and plaid prints. Some were made of leather, others of satin such as the famous Pink ladies' jackets.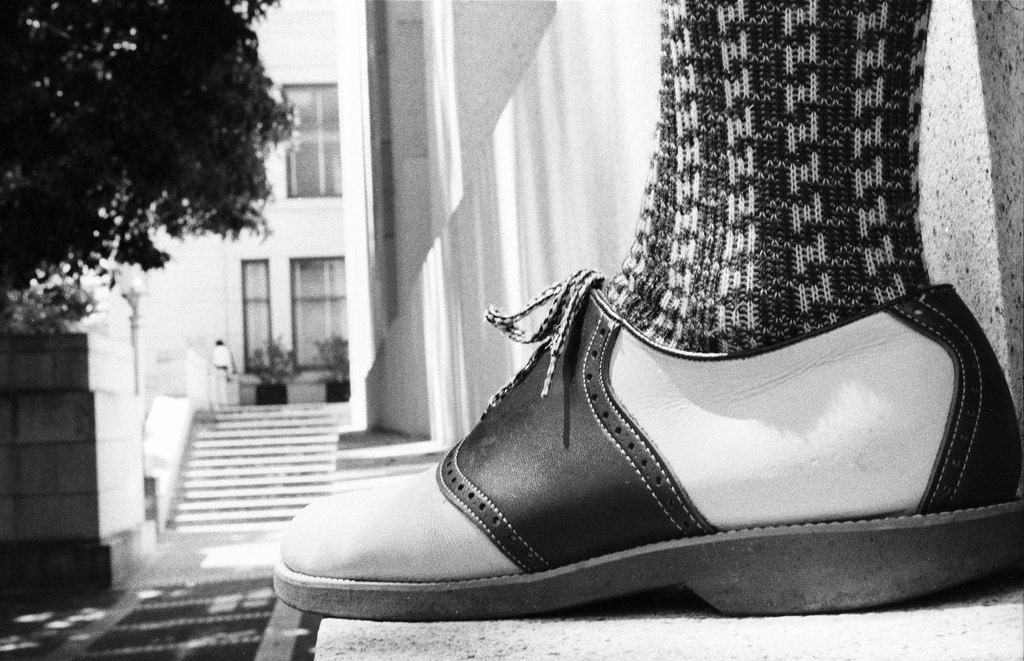 Black and white saddle shoes were all the rage for teens in the 1950s, but women wore them, too. They look best with felt or cotton circle skirts and jean. Other casual shoes included white flat lace up trainer style shoes like Keds, slip on penny loafers, moccasins, low heel Mary Janes, lace up oxfords and black ballet flats with a small bow on the toe.
In summer, espadrilles and sandals were on every woman's feet. Espadrilles had a canvas body and long laces that crisscrossed up above the ankle. Sandals could be combined with heels or as flats. They featured many narrow straps or cut-outs for ventilation.
Semi-formal "outing shoes" would have been pumps or heels. Heel height was usually 1.5 to 3 inches with small, narrow "kitten" heels. Many shoes had decorative elements on the toe such as bows, crystal clips, ties, or at least an interesting painted design. For evenings, pumps were much taller with thin "stiletto" heels. Strappy sandals were also stylish evening shoes, especially in black but teens favoured clear pumps for a Cinderella look.
The wedge heel shoe could be casual or fancy, as was the platform heel shoe. Wedge and platform soles were seen on oxfords, loafers, sandals, ankle strap pumps and peep toe heels.
---
Share this post
---
---
---
0 comments